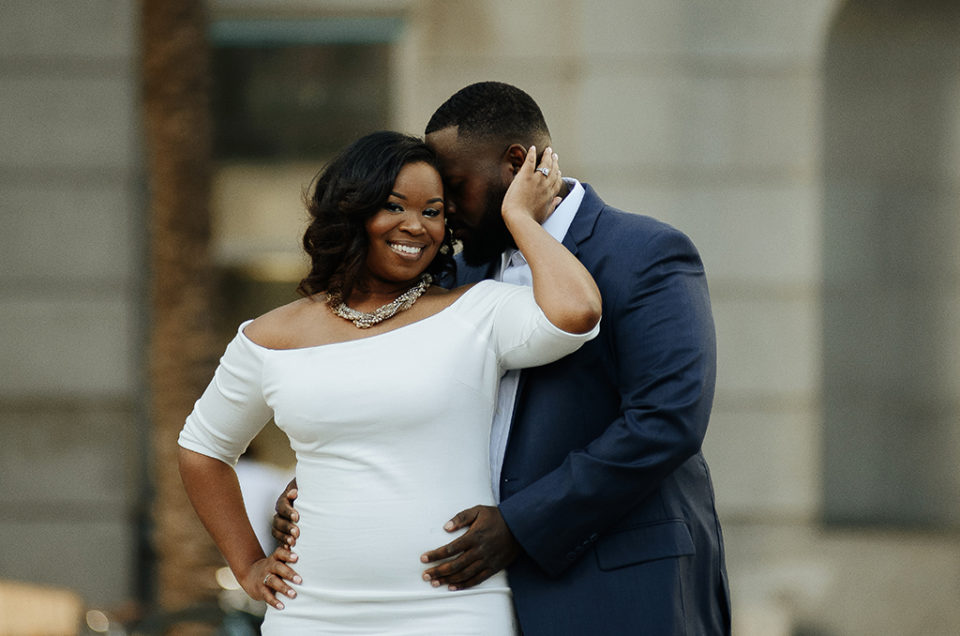 I'm starting to think my clients are plotting against me with these locations for their engagements and weddings…
Now that I've gotten my gripe out the way of being sent to enemy territory at the Superdome, now let's get to the good stuff. And Aireyon + Calvin's engagement day definitely had a lot of good in it.
Everything about this day was personal. I often encourage all my clients to choose locations and themes that are personal to them that way it will matter the most, and the memories will remain long after they've forgotten about me (though that is essentially impossible). In most cases, a majority of my clients defer to me, wanting to bring to life my artistic visions for them, and see their love through my eyes. But not Aireyon. She heard take control, and she never let go of the reins.
From the beginning, I knew my input was minimal. From choosing the city, the theme, and even the time frame, Aireyon was adamant on what she wanted, and had no intentions of settling. She lives a life with Superman, so of course that had to make it into the shots. United in their sports fandom, and that had to make it too. It became so much about her that I had to sneak and add Calvin's truck, which he loves, in to the theme so that he was not seemingly forgotten. But where things got interesting was when she discovered a vision that came to life flawlessly. As we were walking down the street she saw a gate (that she could not accurately name but that is another story), and her eyes lit up with so much hope and desire. It became a must have to her. And for Calvin, he was eager to please her, so he engaged with every idea and whim she had, including chasing down a second line ban to take a few shots to add that NOLA feel to their day. But these amassed to some of the best and most passionate shots all day.
Then as the sun set…it became time to bring the final phase of her day to life.
Aireyon knew and accepted that I am a lighting specialist, and wanted to take full advantage of that. And of course, motivated by flattery, I couldn't disappoint. Even if the location of choice was a place I despise and was torture to me…it wasn't about me. And watching Aireyon + Calvin, the future #EverlastingEmery, light up with love and admiration, made it all worth it.
What's left to say that their love doesn't already say?
---
You might also like
---
---