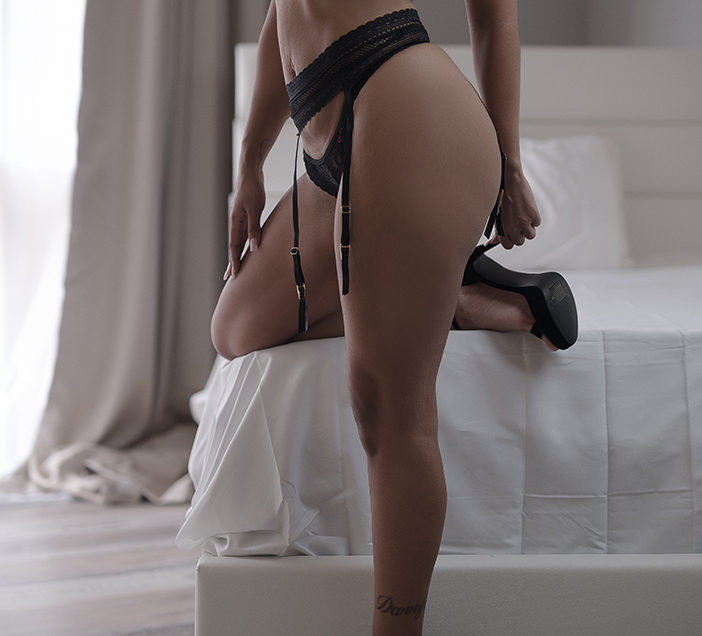 The thought of lingerie can be overwhelming for many, and then when you begin to imagine it on yourself knowing what to wear can be discouraging. But, that's okay. You're not alone!
Whether you're getting ready for a boudoir session, or just planning on having some fun, knowing the best lingerie options for your body type is the first step to rocking them.
The best part is, you might actually be surprised by how many unique and beautiful ways you can wear these fun and fabulous lingerie styles.
Bras and Panty Sets
Obviously we begin here because, duh, it's the number one thing people think of when they think of lingerie. It's traditional, but the more exotic and revealing look (well, of course aside from nude). If you know me, you know I will always be pro black, it is timeless and you can NEVER go wrong with black. However, if you are looking for a little flavor, go with pastel, nude, or primary colors to bring out your natural WOW! If your tummy is a concern avoid low rise panties and go straight for high-rise.
Corsets
Corsets might be one of the best known lingerie options, but the key is to keep them classy. Try finding one with a sweetheart neckline, to accentuate your curves. Corsets that have a straight bust area can actually flatten your girls, and nobody wants that!
Shapewear/Bodysuits
Anyone who talks to me KNOWS I swear by shapewear. There is nothing more exotic that creates curves, that also hides areas you may not be as confident in. If you're a little self conscious about your midsection, try a sexy body suit. Shapewear is the most flattering style of lingerie,  while leaving a bit more to the imagination. After all, it is all about the illusion, right?
Off The Shoulder Sweaters
Sometimes things you never even think about can bring out your inner Vixen and open your Bedroom Eyes. The right off the shoulder sweater, paired with boy shorts can be conservative, yet so alluring that it can't help but stretch the imagination
Lace
Doesn't that word just scream SEXY to you? No bit of fabric has done more for allure than lace! It is exotic, it is creative, and when choosing lingerie if you can't get be exceptional than are you really trying? Don't be afraid to try out the norm, and let lace add texture to your appeal
For Him
Sometimes your boudoir session is not for you. And you want to show appreciation for the things that make him. Utilize his favorite shirt. Make sure when he sees his favorite sports team he always thinks of you. This is your chance to show him that he's on your mind at all times.
The Extras
Because, why be boring? If we're gonna be VIXENS, GO BIG!!! Like every great outfit, your lingerie should be paired with the right accessories. And the great thing about these accessories is that they don't have to be expensive! Add in some great heels, garters and stockings, and of course pearls. See your outfit elevate to epic dopeness!
Check out my HUGE pinterest board for wardrobe ideas: Boudoir Ideas
Hair and Makeup by Nicky Hunter of The Nicky Hunter Effect in Baton Rouge, LA
Have you thought about booking your own shoot with DJ? Feel free to contact me by clicking  HERE.  It will tell you all about the experience and what to expect.  I would love to chat with you! You can give me a call directly at 510-220-5771.  You can also email me at [email protected].  I can't wait to hear from you!
xoxo
DJ
---
You might also like
---
---